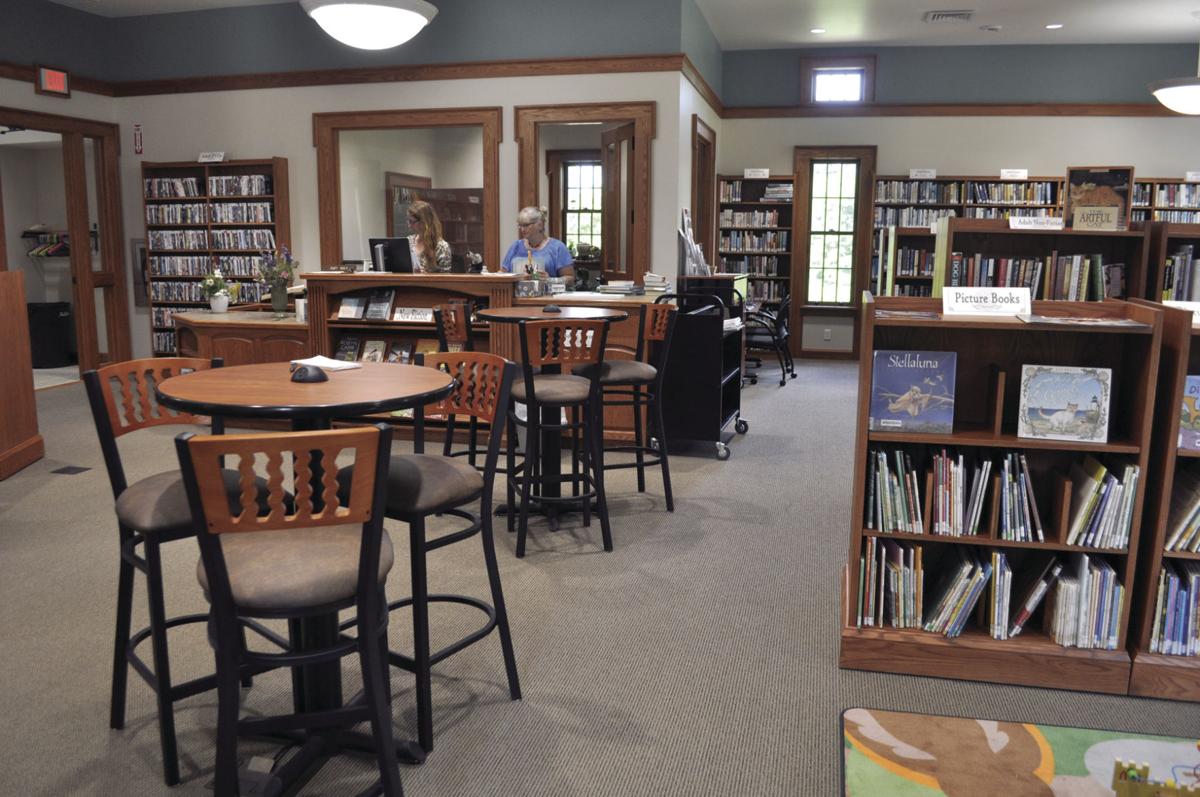 LODI — Like new cars, libraries also have that "new" smell to them.
And that fragrance could still be detected last week at Lodi's new library at 8484 S. Main St., which opened its doors in late May.
Ground was broken on the new 2,500-square-foot building in April 2016 and construction was completed this past May. On June 3, the library celebrated with a grand opening and expanded hours. The library is now open 30 hours a week (vs. 20 hours previously) and the building has been named in honor of Elizabeth Garnsey Delavan.
It appears the community has taken full advantage of the new facility, which is three times as large as the former library around the corner on East Seneca Street.
"I don't know if our usage has tripled but it's got to be close to that," said board President Karel Titus.
The new building features a community meeting room that is still accessible when the library is closed; a larger children's area; new furniture and shelving (both on wheels for moving ease); two unisex bathrooms, with one that is handicapped accessible and equipped with a baby changing table; and four desktop computers and 15 Chromebooks. Library Director Amy May said the plan is to offer five of those Chromebooks to local patrons to check out for home use, while the other 10 will remain in the library.
Titus said the former library served the community well for 100 years, but she knew 10 years ago when she joined the board that a larger building was necessary.
Thanks to the community and a generous donor, however, that dream has become a reality.
When library officials began looking for a new site, Cecilia Smith agreed to donate the plot at 8484 Main St. The Delavan Foundation then donated $230,000 to fulfill the matching funds requirement for a state library construction grant.
Titus said the final building cost came in at around $750,000 — with about 50 percent funded by public monies and the other half by private donors and fundraising.
Phase I of the project funded the building itself — a one-story Greek Revival structure that features a composite wood exterior, steel roof and geothermal heating. Titus said the goal was to make the building — designed by architect Anne Hersh of Corning and constructed by Elmira Structures Inc. — as maintenance free as possible, as well as user friendly.
"Before, people used to come in and get a book and leave," she said.
Phase II involved the purchase of the interior furnishings and computers. The wooden shelves, trimwork and custom-designed circulation desk (all red oak) were built by a local Amish subcontractor from Romulus.
Phase III — not yet started — involves a parking lot behind the building with at least 20 spots, sidewalks, landscaping and a covered bike rack. Fundraising for that phase is ongoing.
The library's collection did not grow with the move, Titus said, but she noted the books are now better displayed and more accessible to patrons. Both she and May also said the new, larger building offers more in terms of programming options. In the past space constraints forced the children's summer reading program to be held at the fire department and other events, like a painting class, also had to be held off site. Any meeting at the old library also involved moving five laptops off the only meeting table.
"It's providing a more convenient space for people to meet and gather and stay," May said.
Last Tuesday afternoon, for example, an adult coloring class was planned for the meeting room while Miss Martha the dog was paying a visit to the children's area for youngsters to read to her.
"So we're doing two things at once that was impossible before," May said.
Titus said the new building is akin to a community center.
"It has many, many uses," she said. "A lot of people come by just to use the WiFi."
This summer, the library is the bus stop for the Ovid summer recreation program and the South Seneca extended school program. May is taking advantage of that captive audience and reading books with the youngsters while they await the bus.
Titus said the Delavan family was "just ecstatic" with the final product when they attended the building's grand opening. And Titus expressed gratitude for May and her fellow library board members, who in 13 months were able to quickly and easily reach consensus on all of the decisions involved with a new building. Trustee Art Calice served as the liaison with the contractor and architect and Titus said his extensive reports were very helpful.
She also cited the community's support, including that from the mayor, village board and highway department.
"Lodi is a special place and it's come together for this project," said Titus, whose pride was palpable as she showed off the new building.