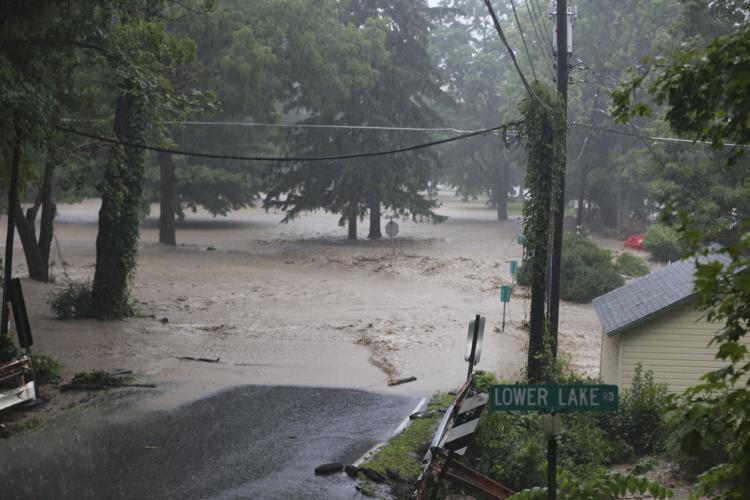 When several inches of rain falls over a very short amount of time, even the least flood-prone regions can see major issues.
The National Weather Service estimated that between four and six inches of rain fell in a strong storm, which sat over portions of Southern Seneca County for several hours during the early-morning time frame on Tuesday.
It resulted in a travel advisory, which was issued by Sheriff Tim Luce. However, that advisory was quickly upgraded to a state of emergency, as water rescues and reports of stranded homeowners began racking up throughout the early-morning hours. 
First responders from Ontario, Seneca, and Tompkins counties all responded to Lodi, Interlaken, Covert, and Romulus for varying emergency situations. 
Lodi State Park and Sheldrake Point were among the hardest hit areas, where significant damage was reported. 
One resident, shaken up by the entire ordeal, said that her neighbor's cottage was completely flooded out and that first responders evacuated her shortly after the emergency declaration became public.
"I've lived here most of my adult life," she said. "I've never seen anything like this. The water came up so quickly and just started running and rising, and it was more than you could even imagine," the resident added. While she was willing to speak with reporters, she did not want to be identified. 
"This happened so quickly. I guess that's why they call it 'flash' flooding," she concluded. The Lodi resident was uncertain when she would be able to return home, and first responders were still dealing with an active scene as of press time. 
Another resident voiced concern for first responders, who were out tirelessly battling the flooding. "This isn't something they have to deal with very often, so I hope they're staying safe," he explained. 
Those sentiments were echoed by a Schuyler County resident, who was up visiting family in Interlaken when the flooding began. "I was getting ready to leave my parents house, and got as far as Lodi before I turned back." 
Governor Andrew Cuomo arrived in Lodi and spoke to media, pointing out that floods must be taken seriously. 
"I know everybody's instinct is to stay in their home. I know, I've been there. When you become trapped in a situation like this it is then dangerous, and you have a lot of first responders who have to put their lives in danger to help you," Cuomo said. "This is a very dangerous situation."
State Route 414 and 96A were both shut down for parts of the morning due to extreme flooding. "I could see the water rolling off hills next to the roadway, and it just didn't feel safe any more," Allen Birchoff explained. "I might have made it, I might not have, but I wasn't going to take that chance." 
Jeremy Porter, who was staying with his family in a cottage along the lake in Interlaken, said that the water rose incredibly fast. "It came much faster than we thought," he said. "Within 10 to 15 minutes the water was moving right through the cottage like we were outside." 
He said they were outside just waiting, with nowhere to go, from 4:30 in the morning until 7:30 a.m. "It just looked like a river was coming around. It looked like there was a refrigerator floating by the house."
"I still feel like I'm in shock," he said, noting that his family was safe. "I know there were people worse off than us. There were campers tipped over and a lot of damage all over the place."
Both Seneca and Cayuga lakes noted significant water rise during the early-morning hours, which was recorded at more than 3 inches of rise at one point. 
Article: https://www.ithaca.com/news/south_seneca/lodi-covert-and-interlaken-hammered-by-flooding/article_cd0210ae-a01e-11e8-9ea2-e35e0cec0234.html